How To Register
Register TripleX
How To Register
Select Membership Plan
There are 2 courses to register.
Standard Member

Standard movies will be available.
You will be upgraded to a VIP member after 60 days.
VIP Member

All movies including VIP movies will be available.
We deliver rare movies such as the first uncensored porn and uncut versions for VIP movies.
Select Payment Method
Pay with your credit card.
Credit Card Payment

Wanna view movies now?


Get ID/PASS now by credit card payment.

We accept [Visa / MasterCard].
Register With Credit Card
1Select Member Plan
Please select a desired plan.
We recommend 30 day plan for the first time users.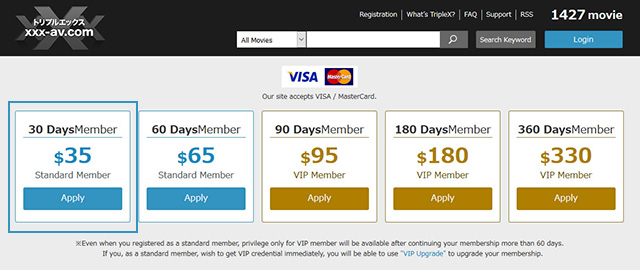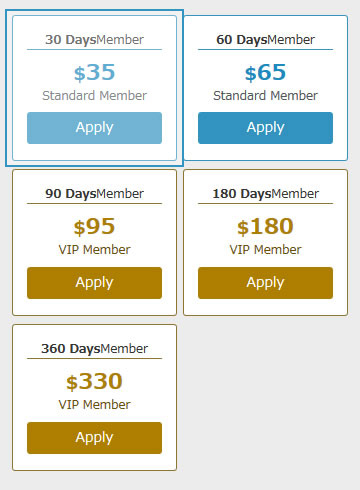 2Fill In Credit Card Member Application
Please select your credit card type and enter desired User ID/password.
Click "Confirm" and you will go to the confirmation.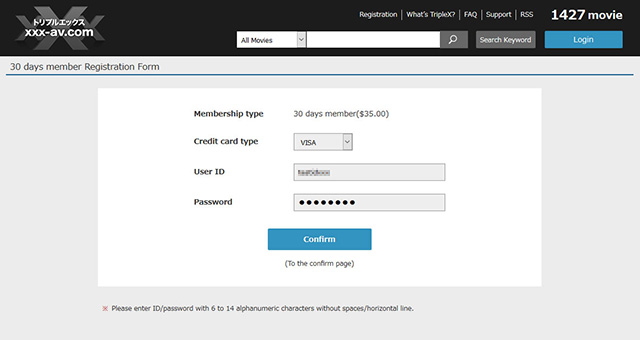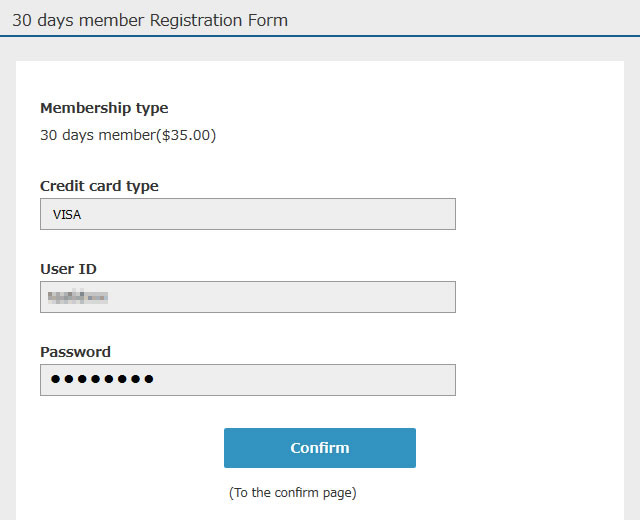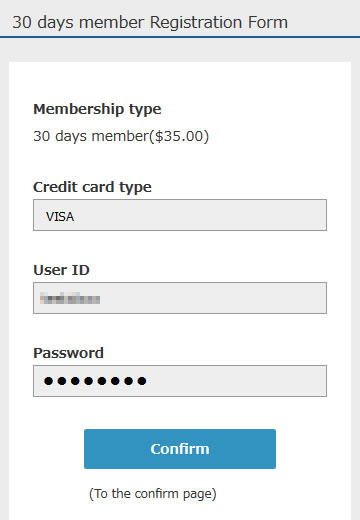 3Check Entered Info
After confirming your User ID/password, please click "Apply".
Your User ID/Password will be required when you use our site.
Please take memo.
A payment info page of the payment company will be opened on another window or tab after clicking "Apply".
※If you register as a standard member, you can upgrade to a VIP member ($35.00) without waiting for 60 days.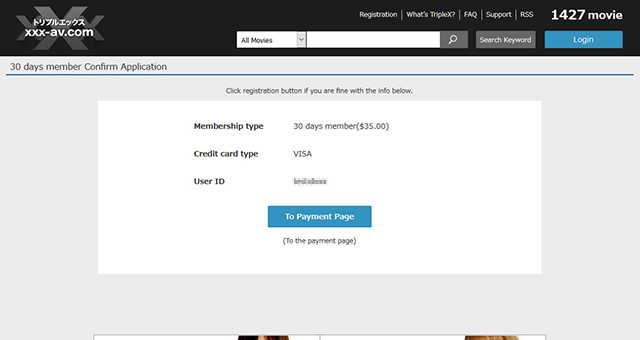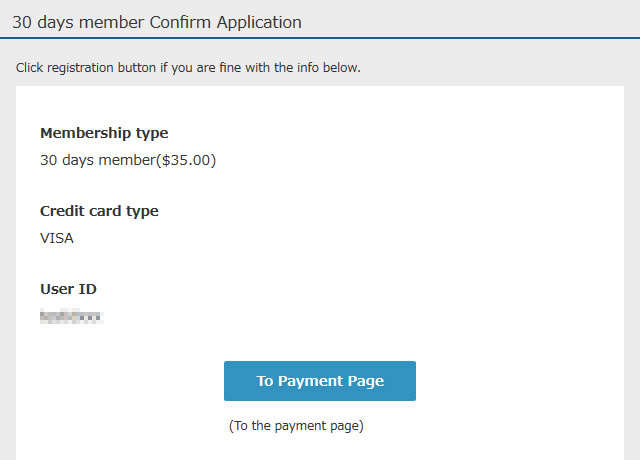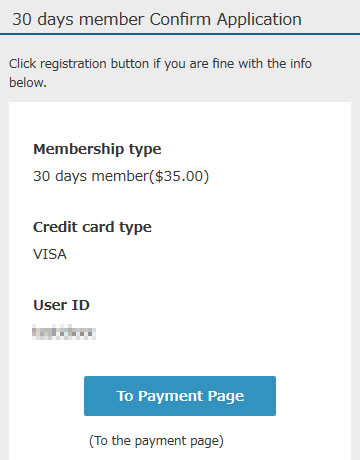 4Enter Credit Card Info
It is the payment company's page from here.
SSL cryptography is used to protect your personal info.
※Credit card info entered here will be managed by the payment company.
Enter your credit card information, E-mail address, and phone number.
After checking entered information, please click "Confirmation."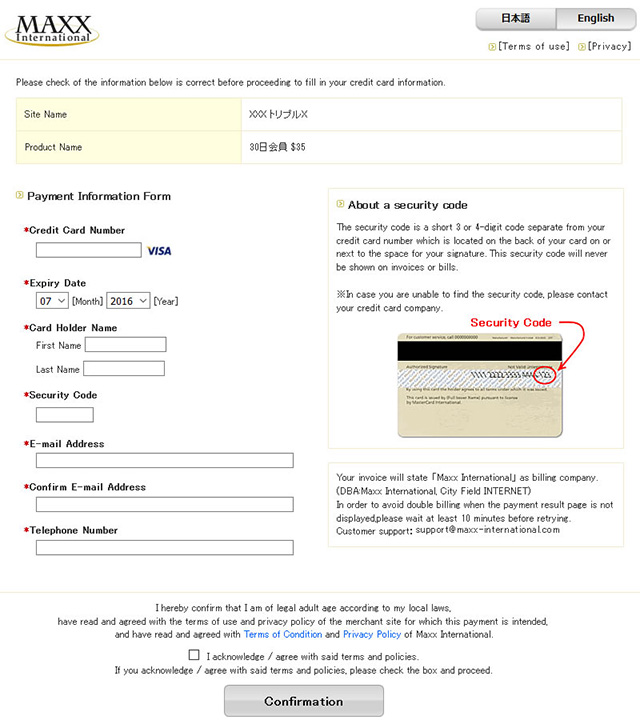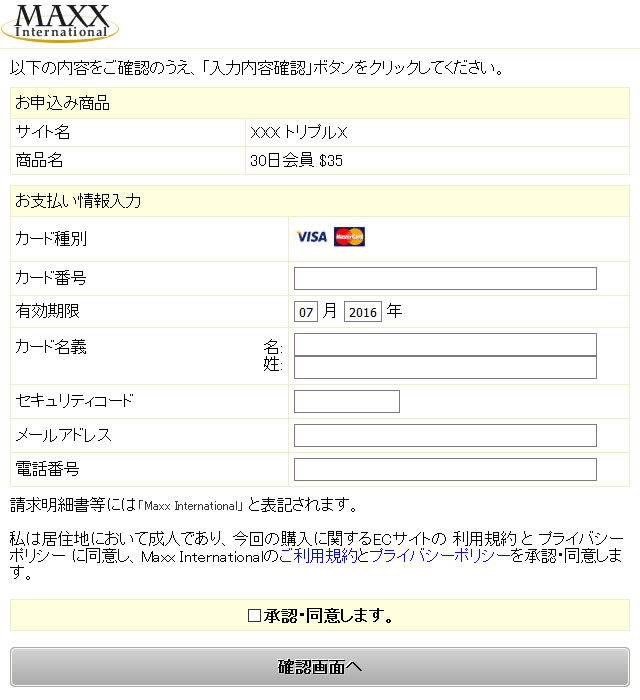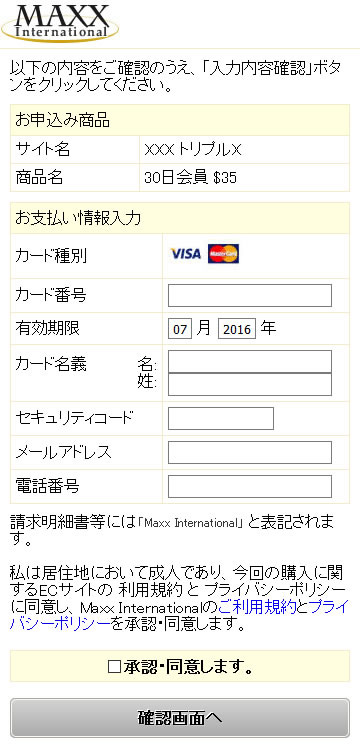 5Payment Completed
The Screen on the right will be displayed when your payment has completed.
※You can enjoy our site with your User ID/Password even before receiving payment completion email.
Failure To Receive The Payment Completion Email
If you haven't received a confirmation Email/User ID/Password even after 24 hours, you may fall into the followings.
The Email may be in the spam folder.
The E-mail may be blocked by your provider.
Please contact us if above are not your case.
Check followings for payment errors.
Entered credit card information was incorrect.
The credit card cannot be used for some reason.
You have tried to pay with a credit card other than [Visa / MasterCard].
You have chosen an wrong credit card type on the application form.

Cancellation
1Open Cancellation Form
Click "Confirmation" after filling the fields.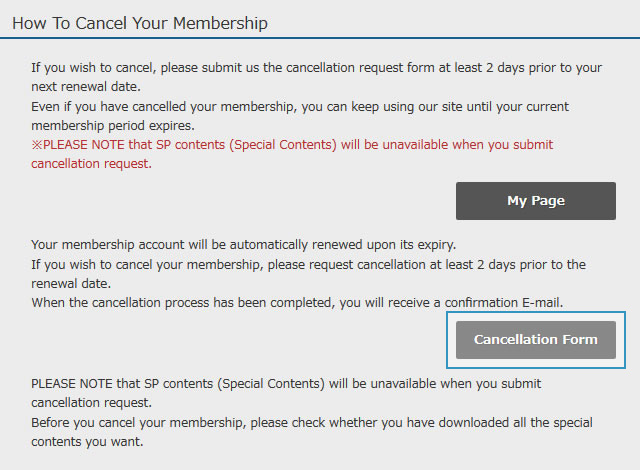 2Confirm Cancellation
Check the cancellation terms and check the box to agree with it.
Click "Next" button after entering your User ID/Password.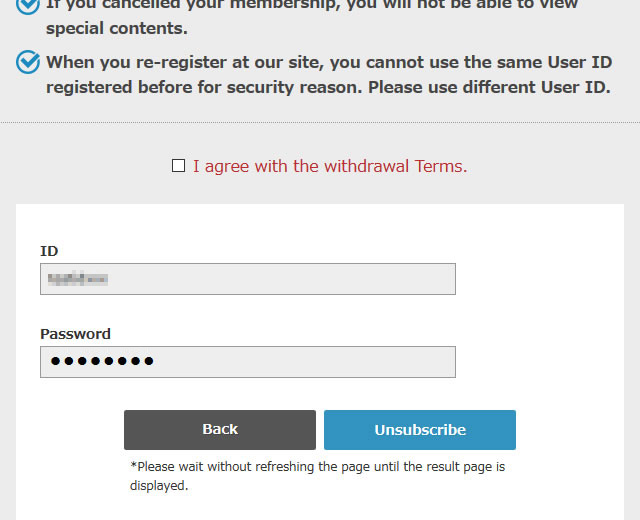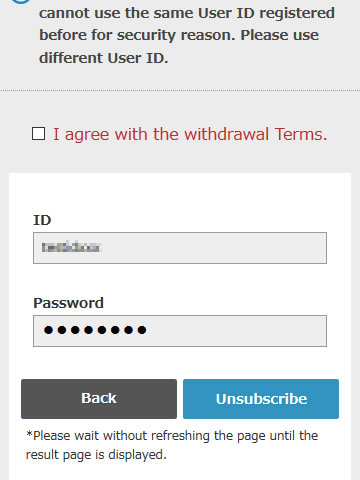 3Cancellation Completed
Your cancellation process is completed when you see the screen on the right side.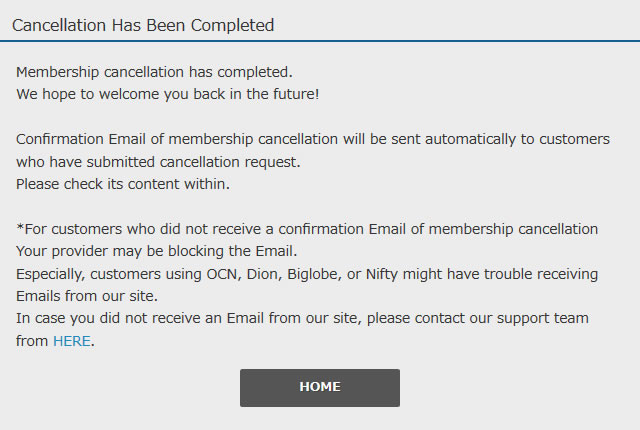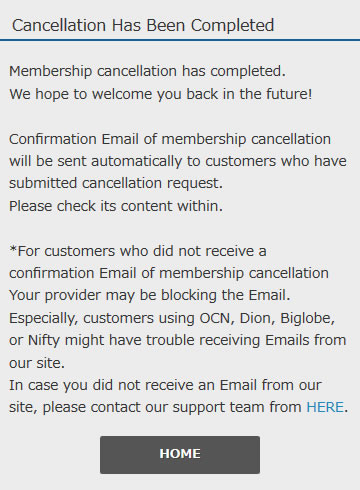 Re-Register
1Check Membership Status
Please log in and check my page.
When your renewal payment has failed or your membership has expired after the cancellation, your membership status will be "Free Member".

2Select Re-Register Plan
When your status is free member, a continuation form will be displayed.
Apply your continuation from the form.
If you were a VIP member primarily and your renewal payment has failed, you will be a VIP member even if you re-register with a standard plan. ※When you cancel your membership by yourself and became a free member, you will be a standard member since continuation points and VIP status will be reset.